From home to the international circuit South African hockey's dynamic brothers Dayaan and Mustapha Cassiem continue to impress and push boundaries between the four lines.
From humble beginnings to the global stage
The Cassiem brothers exhibit confidence in their skills on the hockey pitch and a deep-rooted bond nurtured through their shared experiences. Their relentless determination and mutual support have driven them to push their boundaries and excel in their careers continuously.
"It's more about our connection and relationship on and off the field. At times, we are very hard on each other on the field. It's just the standard that we keep and set for each other. We are always wanting each other to get better," Mustapha told ProTouch.
"It's an honour. It's nice to have someone who has been with you on the good and the bad days. We've played together for a very long time, since I was eight years old and he was 13 or 14. So for me, it's really special."
Dayaan, being the elder of the two and the captain of the national Senior side, has naturally assumed a role model position for his younger brother, acting as a trailblazer by imparting valuable lessons learned from their father.
"It's truly a privilege and honour for me. I think every school is, especially with our family, we try to be role models to each other. And I think, also open doorways or your pathways. So, like, my dad opened the pathway for me," Dayaan said.
"I'm trying to do the same thing to my brother, just to make sure that he has the easy way through, but also, what is nice to see that his hard work is paying off. Some people say talent takes you through, but I think that it is more about hard work and being relentless in the pursuit of greatness.
"The first time he made his debut, against the USA at 18. Since he started playing hockey at five, I could see the hard work and dedication and give 100 percent. It's really cool to play with him finally, at club level, overseas, and international level. We get along well together, and we play nicely off each other. Mustapha is also the U21 men's Captain and he leads the team with confidence".
Stepping onto the astro
Dayaan revealed a critical crossroads in his early years, where he contemplated pursuing either hockey or football. The scale tipped in hockey's favour after witnessing the South African hockey team in action, as the vibrant atmosphere and camaraderie left an indelible mark.
"I had a choice between football and hockey. I loved football so much; I still do now. When I watched the South African hockey team play at Hartleyvale in Cape Town, I just saw how cool the atmosphere was; everyone was watching, and the SA guys were having fun with each other. And then I just said to myself, maybe next season, or next time I, you know, train and stuff. My goal is to make the national team and I think at the age of 17. I remember watching it the last time, and then, I think two months later, I got the call-up, and I think that's just amazing. I think hard work and make sure you put your mind to it," the older brother said.
Following in pursuit
Mustapha, drawing inspiration from his brother's journey, envisions a future where they can play together, representing their nation on the grandest stage.
"Yeah, we've come from a very large sporting background. I played rugby for a long time, I think until grade 10. I think we watched a game at Hartleyvale one day, and we're like, yeah, that's where we want to be one day. So, I think what he's done for me and for my family and for every other kid that has a dream, you know, it's really special. And I think, yeah, when I saw that, I was like, yeah, that'd be special to play together and represent our country at task level."
Venturing abroad
The brothers' excellence transcends geographical boundaries as they embrace opportunities abroad to establish themselves professionally, a path previously pioneered by players like Austin Smith and Nicholas Spooner.
"I think it is the only good thing. However, if you're a coach, you can make some good money back in South Africa. But I think it's the way to go at the moment with, you know, other people like Austin Smith, Nicholas Spooner, setting the pathway for the South African players to make sure that you're always professional. When you're overseas, you're getting paid to play, you know, you're getting well supported. So, I think that's the only way where in South Africa, if you're playing cricket, example, or rugby, it's more professional, where overseas hockey is more professional," Dayaan said.
Remarkably, despite playing overseas, the brothers maintain a strong connection with South African hockey. They acknowledge their dual commitments to club and country, emphasizing the importance of finding a suitable balance.
"I think the club understands that we have national commitments. But obviously, you've committed to the club; you signed a contract, for example. So, you have to find the balance of knowing what your schedule is like. But there are times when it's a tough decision. Do you choose your country? Or do you choose the commitments to your club? I think it's all about what is more important at that stage."
Club endeavours

Having signed with esteemed clubs in Germany and now Holland, the brothers reflect on their achievements as a testament to their dedication and hard work. "This was the step into getting into the big leagues. If you want to play against the best players, you have to take your opportunities, and that's what we have done."
The two brothers landed safely in the Netherlands yesterday, thanks to the ProTouch Africa partnership with KLM Dutch Airlines in South Africa, to begin their journey with the new team Haagsche Delftsche Mixed, commonly known as hdm, a Dutch professional field hockey club based in The Hague, South Holland. Currently, the HDM – H1 men's team competes in the Dutch second division, the Promotieklasse. "HDM H1 has started preparations for the new season, with the big league competition starting on the weekend of September 23 and 24. We are really excited to be here and looking forward to some spectacular games. We are truly grateful for the opportunity, and our flight to Amsterdam was made really special by KLM and ProTouch," added Mustapha.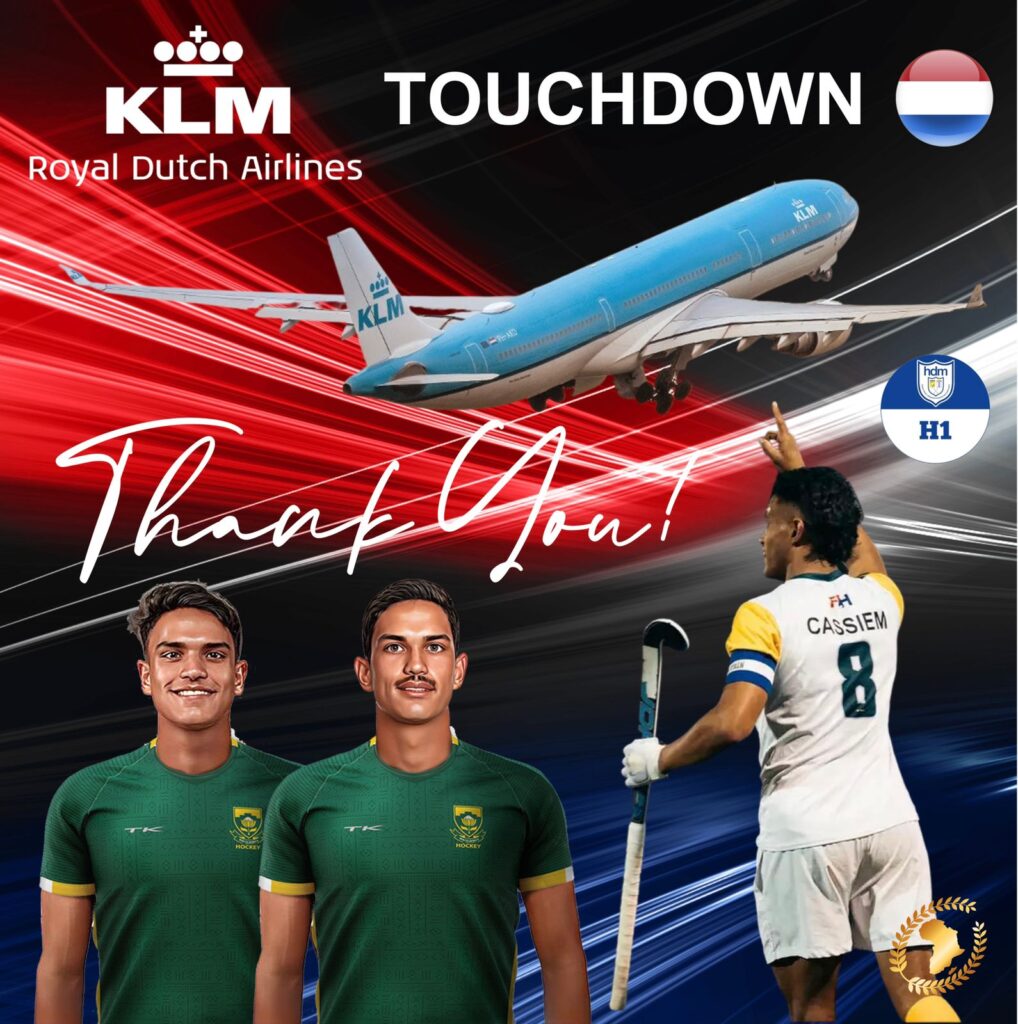 Looking ahead
Both brothers harbour ambitious aspirations, each carrying a unique set of goals for their respective careers.
"Of course, to make the semi-final in the Olympics," the South African captain said.
Mustapha has a slightly different goal in mind: "Yeah, also, one of my goals is to play in the Indian Hockey League, which is probably next year; that's my personal goal."
The Cassiem brothers' journey embodies dedication, unity, and ambition. Their shared experiences and distinct aspirations shape a narrative of relentless pursuit, setting a powerful example for aspiring athletes worldwide.
As Podium Pursuit Ambassadors, for ProTouch Africa we are excited to see them thrive and pave the way for the next generation of athletes too. Watch this space for more on this soon!
Photo Credit: Anton Geyser
ABOUT PROTOUCH AFRICA
PROTOUCH AFRICA is a purpose-led and Sports Tech business founded in 2016 with a focus on enabling African Athletes to perform on the World Stage.
It is pioneering new ways for fans to interact and engage with their favourite teams, leagues, and athletes and enable alternative revenue streams.
ProTouch Africa's Podium Pursuit Project is focused on creating a transparent and sustainable funding mechanism for the next generation of African Athletes. Its vision is to launch the World's first fan-owned impact investment platform for African Athletes in Q1 of 2024 by assembling an ecosystem of top-performing athletes, their fans, and the brands that support them.